Archive for June 2009
A fun "new-retro" platform game, with a twist, a soundtrack by Demoscene Time Machine, baby robots, and unlockable top-hats. What more could you want? (Feel free to answer that).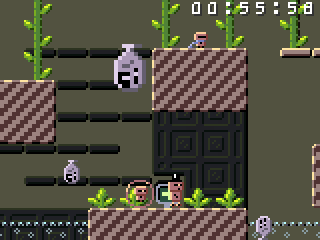 Lazyness and real life meant it took forever, but it's the first 'proper' game I've completed in a long long time, so I'm pretty proud of this one.
For Windows + Linux.
My entry into Ludum Dare 13. A sort of road-based, stripped-back, twisted-up version of pacman.
I was trying to focus pretty heavily on polish above all else whilst I was making it. So despite the 48 hour time limit I'm not unhappy with the result. I enjoyed making it a great deal, and it was pretty well recieved as well, which was a huge bonus